As consumers and governments demand an ever-smaller carbon footprint from the world's major manufacturers, the transportation industry is experiencing an unprecedented push toward "electrification." As the world wakes up to climate change, cities are investing in charge stations, the government is issuing tax credits, and consumers are putting electric vehicles on the road by the millions.
It's not just consumers that are flocking to electric vehicles, either. As the latest last-mile delivery trend, electric vehicles present an attractive option for logistics management and urban mobility. When used to fulfill the last leg of shipment, electric vehicles offer many key benefits over combustion engine vehicles:
Significant cost savings over the fleet's working life
Reputation for corporate responsibility
Reduced carbon emissions to maintain regulatory compliance
These benefits, along with the potential for tax credits down the line, have pushed companies like Amazon to sink hundreds of millions into electric last-mile delivery vehicles (in this case, vans).
Forward-thinking electric vehicle manufacturers are capitalizing on this demand, attacking the marketplace with new and innovative designs to reduce weight, increase range, and maximize ROI. These companies are eyeing (or, in some cases, already using) shop-floor robotics and advanced design materials to further electric vehicle performance and manufacturing efficiency.
We'll highlight three such manufacturers, each striving to reinvent transportation.


3 Last-Mile Delivery Electric Vehicle Makers to Watch As Design Efficiency Evolves
Certain companies are driving e-transportation into the future via refreshed vehicle designs, innovative manufacturing practices, and zero-emissions solutions for a variety of industries:
Arrival
Lucid
Canoo
(Bonus: Your company here?)
Arrival
(Photo by Arrival)
Arrival heralds itself as an emissions-free transportation solution focused on "radical impact."
Its vans replace steel with advanced composites and structural adhesives to cut costs and enable more efficient production. As a last-mile delivery solution, Arrival promises to help both large and small suppliers employ electric vehicles to reduce emissions. UPS has already announced its intention to purchase 10,000 Arrival vans, and the delivery giant's involvement could push other major companies to take the plunge into electric last-mile delivery.
In addition to innovative end products, Arrival draws on an environmentally friendly, vertically integrated manufacturing approach to make electric engines as affordable as ICs.
Arrival's proprietary microfactories nuke the very idea of the conventional assembly line and instead are powered by region-specific capabilities for maximum efficiency. These growing numbers of factories are powered almost entirely by autonomous mobile robotics to cut labor costs. Arrival plans to customize each factory's machinery to produce vehicle traits that meet the needs of that geographic customer base.
The reasoning is solid: Cars used in different regions typically have different requirements (think four-wheel drive in the northern U.S.). Specialized mobile robotics can differentiate facilities based on local demand, keeping each facility customer-focused and reducing cross-country shipping costs.


Lucid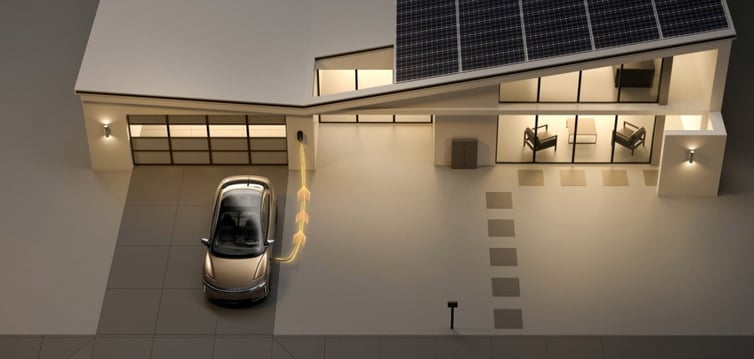 (Image above by Lucid)
Whereas Arrival is changing the manufacturing game, Lucid Motors aims to reimagine electric vehicles themselves, making them more powerful and reliable than previously thought possible.
As a well-known race-car battery supplier, Lucid plans to compete with other electric vehicles through:
Miniaturized drivetrains
Spacious cabin designs
Hyper-efficient batteries
Lucid batteries already rival the competition's in terms of rapid charging, supporting DC fast chargers without degradation. Lucid claims its ultimate goal is to reduce Tesla's current charging times by at least 50%. The company believes its unique battery chemistry is up to the task, but the charging network itself will need to catch up.
Lucid's luxury vehicles boast some of the smallest, yet most-powerful electric motors on the last-mile delivery market. The most advanced model couples a 1,080 hp engine with the battery capacity to support a 517-mile range. The Tesla Model S, by comparison, can travel 402 miles on a single charge.
Together, these technological innovations could make e-mobility both more comfortable and more viable for long-distance applications.


Canoo
(Photo below by Canoo)
In contrast to Lucid's line of luxury cars or Arrival's fleet of shipping vans, Canoo's selling point is a diversified range of electrical vehicles for both work and pleasure.
To that end, Canoo markets multipurpose delivery vehicles and pickup trucks alongside a "lifestyle vehicle" aimed at families. All of these vehicles run on the same EV skateboard platform, which is modular and scalable to support a broad scope of e-vehicles.
However, like Lucid, Canoo's major innovation revolves around electric batteries. The startup has developed a completely modular platform that integrates the vehicle structure with the battery pack, and vice versa.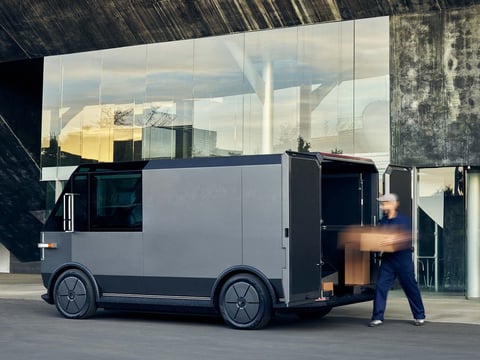 Most electric vehicles use a separate, bulky charging pack that adds weight and limits flexibility. Canoo's modular design not only saves space and weight; it also creates a safer ride. Additional efficiency features include integrated chargers for electrical equipment and mobile devices, as well as fold-down worktables to accommodate mobile business needs.
Canoo has also introduced steer-by-wire technology, which allows purely electronic signals from the wheel to guide the steering axle. This means that the steering wheel can go anywhere in the chassis, since there is no physical connection linking the wheel to the steering axis. As with Canoo's other advancements, this technology yields flexibility and extra cabin space ideal for last-mile business users.


Supporting Technologies Drive Innovation
Although these three companies are far from the only innovators in the electric vehicle space, their efforts illustrate the drive to change the very nature of transportation manufacturing. These developers believe they create a fundamentally better vehicle -- securing the supply chain and saving the planet are almost byproducts.
Some of their specific aims include:
Optimal efficiency -- both in fuel conservation at the end-user level and supply chain health at the industry level
Increased cargo volume (or, alternatively, the opportunity to build smaller electric delivery vehicles) -- via lighter,

more compact motors

, batteries, and chassis
Better battery range -- for trips as long as 500+ miles
Lower environmental footprint -- through reduced emissions and more conscious manufacturing
Reduced maintenance -- by eliminating reliance on combustion engines
Broader customization options -- from new steering wheel placements to built-in charging stations
To escape the so-called limits of urban transportation, manufacturers should look to innovative materials and advanced robotics to squeeze every possible advantage from their process.


Advancing Transportation Through Advanced Materials
These automakers are creating never-before-seen solutions to transportation problems. But to do so, these need their own innovative solutions -- all the way down to the choice of materials inside their vehicle's smallest components.
One of the most important considerations for electrical vehicle manufacturers is the potential of soft magnetic composite (SMC) and sintered soft magnetic materials. With SMC materials, engineers can experiment with new battery and motor designs to enhance performance.
Advanced powder metallurgy materials are ideal for both AC and DC applications, including components such as axial flux motors and magnetic torque tunnels. In these electromagnetic applications, soft magnetics enable dramatic space savings, enhanced efficiency, and maximum performance. These benefits are critical for last-mile electric vehicle designers, who need to stay lean and mean as possible.


Moving Forward With Magnetic Performance in Last-Mile Delivery
The electrification of transportation is already here. Just take a walk in downtown Nashville, where you may see more e-scooters than traditional cars.
Arrival, Lucid, and Canoo are reshaping not just the future of electric vehicles' design, but also the way we build them. Do you have a company that could be next to revolutionize electric powertrain design?
The last-mile delivery market is looking for:
Powertrain efficiency
Battery range
Cargo volume
Maneuverability/safety (You could change the whole dynamic of driving by putting the battery pack in the vehicle's "torso," reducing risk of rollover!)
Lightweight design (Could powder metal reduce your reliance on bulky cooling system designs?)
Reduced maintenance
High customization
As we speak, EV parts manufacturers are supporting these needs with emerging technologies.
Soft magnetic materials and the net-shape forming process of powder metal can help engineers keep up. In the race for a better electric vehicle, the field has become too crowded to settle for "traditional."
To learn more about how engineers are integrating soft magnetic materials into electric vehicle design, check out this resource page: