More on Soft Magnetic Composites
Heat Efficiency & Performance
In SMCs, each particle is a discreet magnetic element. We achieve this by adding a magnetic resistive coating to each particle. How does material process affect your part's performance? You've now minimized the magnetic losses (heat buildup/eddy current losses), particularly at higher frequencies above 200 Hz, while adding the flexibility of 3D design. Compared with steel laminations, soft magnetic composites can offer superior efficiency -- both in magnetic performance and material use.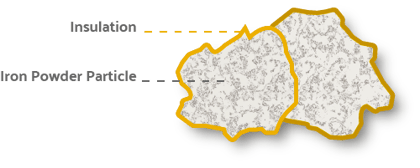 What's the best material for AC custom electric motor design? Introduce yourself to soft magnetic composites -- the perfect complement to AC electromagnetic designs that need a higher level of performance.
SMCs offer other design possibilities that simply didn't exist previously:
Lower total/eddy current losses

Greater 3D shape-making capability through advanced compaction technology

Ability to use higher frequencies

Lower energy consumption
For example, a low-speed rotor is highly compatible with SMCs -- the stresses are lower than you think. In a ceiling fan motor, you can combine SMCs and traditional lamination steel to achieve multiple properties and reduce the assembly size.
There are many more applications for SMCs, but they do have their limits. That's why sintering exists.


ENGINEERS' HUB FOR E-MOTOR
EFFICIENCY
If you're already experimenting with new electric motor solutions that are a little different, consider incorporating powder metallurgy into your plan: