PM – A Reliable Part making Technology
Today's manufacturing environment demands flexibility of design along with minimum energy consumption and long-term reliability. Flexibility of design means the ability to create complex 3D shapes while minimizing machining losses (also an energy waster). What if you can take your current design, either a single piece (requiring extensive machining) or a complex multi-piece assembly, and convert it into one piece with known reliability and potential cost-saving advantages. The answer is powder metallurgy (PM). PM is an established metal-forming process that utilizes particulate materials that is compacted in a closed die enabling a wide variety of shapes, see figure 1 below for some of the many shapes enabled by PM.
So, what's next for powder metallurgy?
SMCs -- The Next Step in PM's Manufacturing Excellence
PM is a proven technology for advancing design flexibility in structural components - embraced by industries such as automotive, lawn and garden, home appliances, power hand tools, hydraulics, and the list goes on... Long-term reliability of PM components has been demonstrated many times, particularly in the automotive industry where many PM parts are still in service after more than 20 years.
Can this same flexible and proven technology be adapted to new-generation electric motors? The short answer – ABSOLUTELY YES. The continuing advancement of soft magnetic composites (SMCs) as an enabling technology for unique radial flux, axial flux, yokeless axial flux, and other non-traditional motor topologies. SMCs give the same 3D shape-making ability as offered in structural PM but now with the emphasis on electric motors and electric devices. The earliest use of SMC was more than 30 years ago with the introduction of the Delco Remy ignition coil. These ignition coils offered high material utilization, unique round design, excellent magnetic performance, and long-term reliability along with reduced manufacturing cost. Some of the early GM engines utilizing these coils are still in service today.
Early SMCs were a product before their time - before energy efficiencies and high performance were the top priority. But as we know all too well…the marketplace for electrical devices is changing rapidly and SMC technology enables the ability to meet the increasing demands of performance and efficiency.
The current state of the art in SMC technology has advanced dramatically from its infancy. Some of the newer SMC parts either in production or quickly approaching serial production are shown in Figure 2 below. Notice that these parts all have an intricate 3D shape that is an essential design element. Another interesting design feature of PM is the ability to compact smaller segments of a larger design and then via a proprietary bonding technique, these shapes can be glued together to form a single shape without regard to size or part complexity while still maintaining electrical and mechanical performance.
What are some of the other advantages of SMC components:
3D magnetic flux path. Because SMC components start out as a powder material, they are not restricted by how the magnetic flux lines flow in the part. Unlike laminations where the preferred flux path is in the plane of the lamination.
Reduced total core losses at elevated frequencies. Once again because the starting material is an insulated fine ferrous powder, the losses are restricted to the individual particle size.
Ability to tailor the magnetic response to both frequency and desired permeability. Controlling the particle size and overall part density, the SMC part can be fine-tuned to meet the many demanding magnetic responses of a wide variety of applications.
Eliminate the need to join multiple laminations. When stamping laminations, the individual laminations need to be held together to form the stator stack. Whether this via welding staking or even gluing, SMC technology can produce a one-piece design eliminating the need for joining. Previous work has shown that both welding and stacking have a significant increase in the core losses (heat) generated by the device. Even if the SMC part is a segmented assembly, the core loss characteristics are unaffected.
High material utilization and low energy to produce. Because SMCs are a PM derivative, the inherently high material utilization (greater than 95%) and low energy to produce (less than 85% of the energy to produce a similar wrought steel device).



Some interesting examples of current SMC components are as follows:
EVR Motors developed a unique trapezoidal radial flux topology that competes with axial flux motors with high torque density

Axial flux motor for HVAC applications. This is a one-piece component with no machining.

Koenigsegg Regera motor. This is also an axial flux design introduced in 2015. It is used in a hybrid design utilizing three motors and an internal combustion engine. [1]

Ferrari SF90 Stradale. Introduced in 2019 as a hybrid design utilizing an IC engine and 3 axial flux motors. [1]

Mercedes Benz and YASA. Mercedes Benz has invested heavily in the yokeless axial flux motor developed by YASA. Envisioned as a pure EV, this has not reached production status but early results are very promising. [1]
Most of the above examples are automotive-related, where the need is for high power and reduced weight. These new design motors offer the performance demanded by the many hypercars referenced. It is inevitable that lessons learned from these applications will find uses in our everyday applications that also require high power, low weight, low energy usage, and potentially low total cost to manufacture. Think drones, power tools, and household appliances ….. SMCs stand to reshape the future.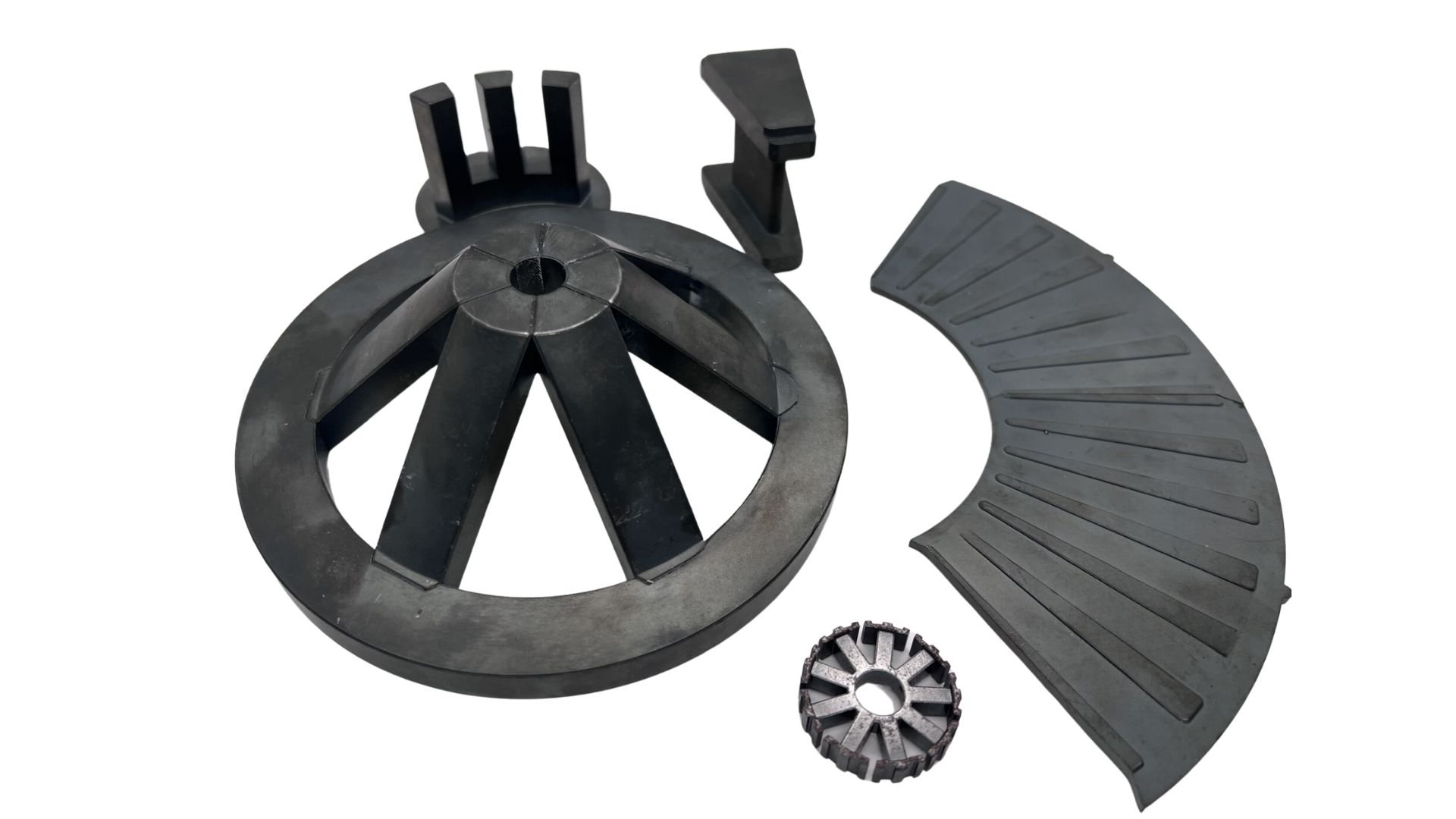 The Future of Electric Motors?
Koenigsegg has recently announced a totally new electric motor to power their next hypercar. They have named the motor Gemera TFG, also nick-named The Dark Matter Motor. Key performance aspects of this motor are 800 hp with over 950 pound-feet of torque all in a package that weighs less than 40 kgs. There are few technical specs on this motor other than it uses a 6-phase design - integrating both radial and axial flux design for a RAXIAL motor topology. Koenigsegg was an early adopter of SMC technology - is the new Gemera TFG "Dark Matter" motor taking SMCs to a new level of design?
The potential performance of this electric motor is exhilarating!
How can SMCs Help You in Your New Design?
SMCs are an exciting development for both powder metallurgy and the future of AC magnetic devices. SMCs offer compact, 3D design and performance advantages already fully utilized in many supercars of today.
Visit our website or contact us to see how SMC technology offers the ultimate in design freedom.