Horizon Technology not only delivers unique and complex metal powder products, but also brings you them in the most streamlined way possible.
To prove it to you, we went out and got ISO 9001:2015 certified.
Why does this matter to you? It means our procedures and systems have been inspected for quality and cost effectiveness at every stage -- and gotten the stamp of approval from ISO (the International Organization for Standardization).
What Is ISO Certification?
ISO 9001 is an international standard that is followed by organizations of all sizes to ensure industry standardization of quality assurance. ISO 9001 was first published in 1987. ISO 9001:2015 is the most up-to-date certification available of its kind.
Vendors who want to commit to high standards and customer satisfaction prioritize these standards, performed through what's called a quality management system (QMS).
A QMS is a set of standards we're required to meet. It's all about the plan-do-check-act cycle. QMS standards apply to:
Business planning

New product development

Analysis

Continuous improvement

More
More on ISO 2015
We've upgraded from the previous available certification (ISO 9001:2008) to maintain your projects' quality, efficiency, and potential for improvement.
This certification is really about you. That's why, to earn it, we had to prove proficiency in:
Managing and leading the way for your product's benefit

Helping you realize success from the design stage to delivery

Measuring and analyzing performance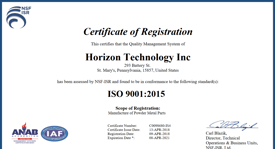 (Click the image to see the full certification)
This standard has several requirements. The goal? Eliminate guesswork on the customer's end. When you see a company has an ISO 2015 cert, you can automatically check several boxes off in your head.
Risk analysis

: Risks are being minimized, and the company is forward-thinking with process planning and analysis.




New products

: Thorough, documented tracking of your project; consistent timeliness; proof of a controlled process and high component quality.




Continuous improvement

: Proof of lower costs and better efficiency? Demonstrated reductions in scrap and fewer bad parts going out to customers.




Audit

. External auditor has come in and verified that the company is doing everything it claims it's doing.
An ISO-Certified Vendor Helps You Make Better Powder Metal Products
Because of the emphasis placed on organization through QMS software and day-to-day best practices, an ISO-certified powder metal parts maker is a more efficient one. Ultimately, this efficiency produces a more cost-efficient part for customers.
The ISO 9001:2015 certification also shows credibility and industry knowledge you can lean on. Let's face it, powder metal, magnetics, and other concepts are tough to understand for someone who doesn't work with them daily. An ISO-certified vendor will have a total understanding of your project and the processes needed to deliver it, eliminating the worry of an ill-informed vendor who is difficult to work with.
Powdered Metal Differently: Horizon Technology and ISO 9001:2015
When you're looking to have your product designed with expert oversight, the clear choice is to go with a certified vendor. Horizon Technology is proudly committed to helping you keep up with modern industry standards and cost-effective strategies.
Check out our capabilities and request a quote to discover how Horizon does powdered metal differently.