What's an SMC, & How's It Improve Electric Motor Efficiency?
Great questions!
Soft magnetic composite is a powder metal with electrically insulating coating. This material is exclusively produced through advanced powder metallurgy.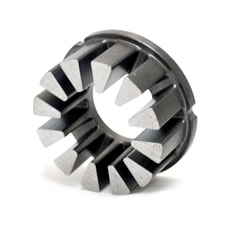 Its many benefits include:
Net shaping with < 5% scrap waste

Allows for intricate component features & alternative designs

Lower core losses with 3D flux capabilities

Facilitates simple and compact assembly, saving space & weight

Excels at frequencies up to 10,000 Hz -- and beyond
The full e-book has tons of other data and graphs to illustrate the performance of SMCs vs. traditional materials and processes. Simply complete the brief form to unlock this research.