Education and technology are the bridge that should connect powder metallurgy companies with design engineers looking to gain a competitive edge. Those two goals revolve around every conversation Horizon has with a customer as together we seek new solutions for auto components and other applications.
That's why we've brought in a former Hoeganaes design and materials expert.
Tom Freemer, our new Director of Technology & Business Development, has worked with numerous OEMs and auto makers to connect them with emerging solutions in the powder metallurgy manufacturing process. Your product can't afford to stay stagnant -- keep reading to see how Tom will keep you cutting-edge.


Unlocking Powder Metallurgy's Advantages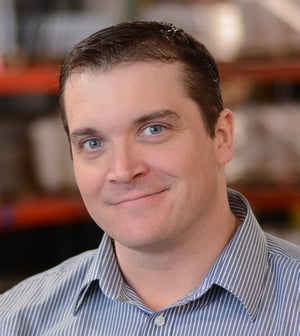 Tom will wear a few hats around the Horizon office, and all of them have one end purpose: How can customers take their project to the next level?
There are many industries that are still exploring the full potential of powder metal, including:
Tom will work with customers to make their product manufacturable in powder metallurgy in the most cost-efficient way possible. He'll also help steer future advances in technology and materials -- all with your end goal in mind.
Allow us to explain.


1. New Product Design for Powder Metallurgy
Today's OEMs are looking for powder metallurgy providers that not only make something 10 cents cheaper, but also change the paradigm, totally re-engineering a system.
To that end, not all powder metal parts suppliers are created equal. OEMs are recognizing there's a huge gap between advanced powder metallurgy companies and more rudimentary operations.
Tom's -- and Horizon's -- #1 priority is giving customers that extra boost in the new-product design phase.
We've developed plenty of process and materials that work great in our little bubble. But these advances in powder metallurgy mean nothing if we can't make it fit within your system. Tom's duty is to understand the customer's application.
Tom specializes in, among other skills:
Advanced product quality planning (APQP)
Automotive component development
Root cause analysis
Continuous improvement
"I try to look at things from the beginning to the end of the process," Tom says. "The customer cares about how we can make PM manufacturable. "I've done everything from product design, tool design and process design all while factoring in customer quality expectations for the end product"
Tom and the team will help customers interpret all the fancy process and materials we always talk about and apply them to your product design.
"When we're on the shop floor with visitors and walk them through the process, from our CNC compaction to our high-temp sintering, we want to give them peace of mind about the technical aspect," Tom says.


2. R&D: Finding the Next Big Thing
Where is powder metallurgy technology now? Where does it need to be? What emerging technologies should we be helping customers adopt?
Powder metal exists for one fundamental reason -- it's a cost-effective way of forming metal. The more time powder metal parts makers devote to researching ways to improve on the current methods, the more cost-competitive your part can be. The plastics industry has done such a good job researching materials in recent years that they've taken some work away from powder metallurgy.
Tom's goal is to determine those next steps for powder metallurgy -- the ones that become giant leaps for your steering wheel or electric motor or hand tool.
That breakthrough could come in materials, or it could be an improved production process. For example, when pressing parts, what could PM manufacturers do to create shapes more effectively and efficiently? A big part of Tom's job is finding those new solutions and reducing costs for customers.


Questions for Tom?
In addition to his accomplishments at Hoeganaes, Tom holds an engineering degree from Penn State University. He's spent time directing product development at Advanced Powder Products, GKN Sinter Metals, PMG, and Symmco.
He -- and Horizon -- are ready to help innovate your next generation of small components.
If you have a question for Tom about design considerations for powder metallurgy -- or any PM problem in general -- contact him via the button below.